CAESARS SUITES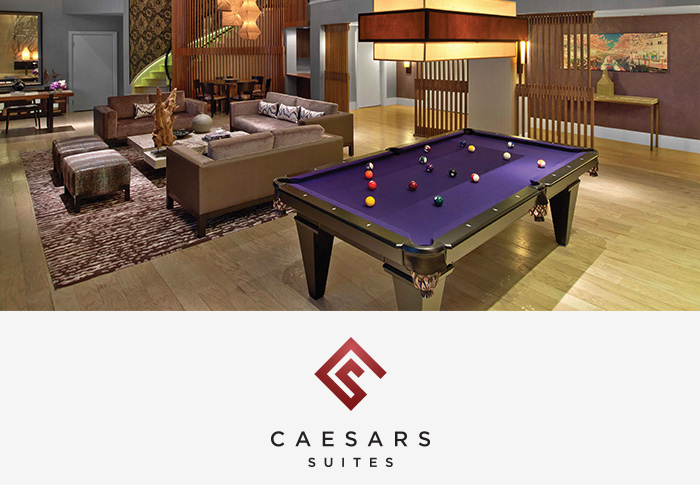 ABOUT CAESARS SUITES
You deserve to have it all.
Once suites in Las Vegas were only enjoyed by celebrities and VIP casino guests. No more. Now you can indulge in the exclusivity of a Las Vegas suite with the Caesars Suites collection.
This is Vegas – upgraded. Business, party or family vacation – we have the perfect suite for you. With VIP services and opulent amenities, Caesars Suites will elevate your Vegas vacation.
Ultimate Vegas Experience
Live the lavish VIP lifestyle of a celebrity in one of our Villas. Here over-the-top service and ostentatious amenities have been enjoyed by presidents, movie stars and now – you. Our Villas are the epitome of having it all, plus a little more.
Elevate Your Stay.
It's time to upgrade your Vegas stay. You always wondered what the suite life was like. Now you can experience it.
Create your own grand experience in one of more than 2,000 of the best Las Vegas suites. Spoil yourself, your family and friends or maybe a business client in one of our 1-bedroom and 2-bedroom suites with elegant decor and indulgent amenities.
When no ordinary room will do, we've got the extra pampering and upscale amenities that transform a bachelor / bachelorette party, college reunion or boys / girls weekend into an Instagram-worthy occasion.
Our Caesars Suites collection offers something to fit every lifestyle and budget.
Book a stay in one of our suites today and transform your Las Vegas vacation from ordinary to epic. Your unforgettable Vegas experience begins here.
About your Caesars Suites amenities
With the Caesars Suites program, guests will enjoy the best suites in Vegas and receive a card entitling them to a variety of VIP amenities during their stay, including:
Priority Service: Guests in select suites receive access to VIP check-in and Total Rewards Diamond lines at the buffets and taxi stands while on property. Access to the Total Rewards Diamond Lounge is not included.
Transportation: Arrive and depart in style. Guests staying in select rooms receive complimentary limo service to and from the airport.
Butler Service: Admit it, you've always wanted your own personal butler. Now guests staying in select suites will enjoy this luxury service.
Resort Fees: Resorts fees are waived for qualified bookings.
Contact jruffini@caesars.com for more information about suites.
For more information visit www.caesars.com/las-vegas/suites