NOBU HOTEL AT CAESARS PALACE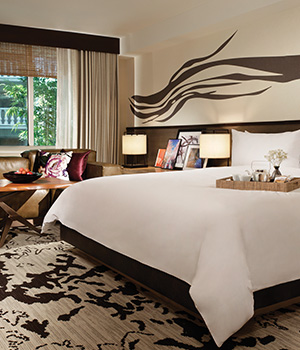 It began with one man, a chef named Nobu Matsuhisa. Inspired by his love of food and flair, Chef Nobu explored the far reaches of the globe mastering culinary traditions from locations as varied as Japan and Peru, before settling in Beverly Hills, California. Here, he drew upon his classical training at sushi bars and his travel abroad to create a whole new trend in Japanese cuisine. His fusion of classic Asian fare with modern flavors made him an instant hit, attracting the attention of Los Angeles celebrities, including actor Robert De Niro.
Nobu Hotel Caesars Palace offers 181 rooms and suites and an adjoining 12,775 square-foot restaurant and lounge, which is the first on the Las Vegas Strip and the largest of all Nobu's restaurants worldwide. Guest rooms offer stunning Strip or garden views with designs that embrace comfortable simplicity with natural materials and textures counter-balanced with outsized elements to reveal a touch of Vegas flair. Eighteen luxury suites range from one-bedroom, 1,000 square feet, to five-bedroom, 3,500 square feet configurations and are available for guests seeking premium accommodations or a stunning venue to host an unforgettable special event.
And now the world's first Nobu Hotel has arrived at Caesars Palace, bringing together two iconic brands like never before. With a setting of stylish indulgence infused with traditional Japanese and modern styles, this boutique hotel redefines hospitality with the same artful elegance that Chef Nobu brings to his restaurants, attracting a whole new clientele to Caesars.